Street hockey is a form of hockey that is traditionally played on the streets, or some form of asphalted surface (i.e. parking lot or tennis courts). There are organized leagues that play the sport, but you will most likely find this game played by children playing a game of pickup in your streets.
Street hockey is very similar to ice and indoor hockey with only minor equipment differences. Unlike ice and indoor hockey, street hockey does not require skates. Inline skates or sneakers can be worn for the game. Another difference is that instead of the standard hockey puck, street hockey is played with a round orange ball.
Elite Street Hockey Manual:
Rule 306 – Ball
The ball shall be made of an approved plastic with a diameter of 6.6 cm to 7 cm, orange in color.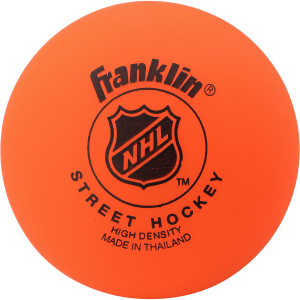 References:
Elite Street Hockey Manual – http://www.isbhf.com/download/ISBHF_Elite_Street_Hockey_Draft_%20Manual.pdf
Photo 1 – http://metronews.ca/features/halifaxs-photos-of-the-week/713052/over-the-top-halifax-week-in-pictures/attachment/06-17-halfront-street-hockey-jh/
Photo 2 – http://www.sportsauthority.com/FRANKLIN-NHL-High-Density-Street-Hockey-Balls-3-Pack/product.jsp?productId=11556299