A combination to field hockey, hurling, and bandy ball, this game is played mostly in Scotland. Shinty is known as a Scottish Gaelic team game that is played with sticks and a ball. The basic ball equipment for Shinty would be considered similar to an American baseball.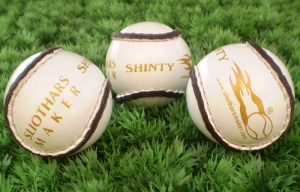 According to the Rules of Play and Playing Season Byelaws 1, section 1.2 The Ball:
The ball shall be spherical – the interior shall be cork and worsted, the outer cover shall be of leather or other approved material. The circumference of the ball shall be not more than 8 inches (20cms) and not less than 7 1/2 inches (19cms). The weight of the ball, at the start of the game, shall be not more than 3 ounces (85gms), nor less than 2 1/2 ounces (70gms). The ball shall not be changed during the game unless authorised by the Referee.

Reference:
Rules of Play and Playing Season – http://www.shinty.com/wp-content/uploads/2010/02/Byelaw-1-20141.pdf
Photo 1 – www.bbc.co.uk
Photo 2 – www.sliotharsmaker.com