According to the Sepsktakraw official website, Sepskatkraw is played on a rectangular court which is of similar size to a badminton court and with a net suspended in the middle, the fundamental rules are simple, with the objective being to deliver the ball over the net into your opponents' court, and try to make it un-returnable. Players may use any part of their legs, head and torso to handle the ball, but not their arms or hands.
The standard ball equipment for sepsktakraw has many regulations as to appearance and performance: 
4 The Sepsktakraw Ball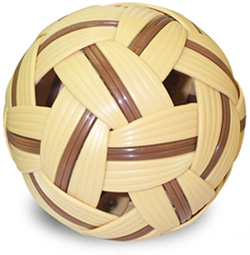 4.1 The Sepaktakraw ball previously made of rattan shall be spherical in shape, made of synthetic fiber of one woven layer.
4.2 Sepaktakraw ball without synthetic rubber covering must consist of the following characteristics;
4.2.1 Have 12 holes.
4.2.2 Have 20 intersections.
4.2.3 Has a circumference measuring from 0.41m to 0.43m for men and from 0.42m to 0.44m for women.4.2.4 Has a weight that range from 170 gm to 180 gm for men and from 150 gm to 160 gm for women.
4.3 The Sepaktakraw ball can be in plain single colour, multi-colour, and luminous colours, but not in any colour that will impair the performance of the players.
4.4 The Sepaktakraw ball can also be constructed of synthetic rubber or soft durable material for covering the ball, for the purpose of softening the impact of the ball on the player's body. The type of material and method used for constructing the ball, or for covering the ball with rubber or soft durable covering must be approved by ISTAF before it can be used for any competition.

4.5 All world, international, regional competitions sanctioned by ISTAF, including but not limited to, the Olympic Games, World Games, Commonwealth Games, Asian Game and SEA Games, must be played with ISTAF approved Sepaktakraw balls. 
References:
Official Sepaktakraw Website – http://www.sepaktakraw.org/about-istaf/how-to-play-the-game/#.VAXLSUtsAds
Laws of the Game – http://www.takrawusa.com/rules.html
Photo – http://takrawcanada.com/?q=node/32
http://worldfootbag.com/product-category/footbags/unique-footbags/